Who are you going to call about a fraud?
From Study by FINRA and Stanford Center on Longevity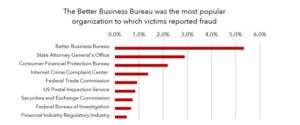 Consumer Tip of the Week:  Many people do not realize that they can dispute charges on their credit cards, a process called a charge back, especially if it was used in a deceptive sale.   Disputes can even be done on line, and consumers usually prevail.  And you have 540 days to do so.
Symantec Internet Security Report for 2017
Number of identities stolen in breaches doubled to 1.1 billion
One in every 131 emails have malware
53% of all emails are spam
Ransomware generally hidden in emails that look like routine invoices or delivery notifications; attachments have malware in them
Ransom demands in ransomware went up from $294 to $1077
Tracked 463,000 ransomware attacks
Crooks using Internet of Things devices such as routers and security cameras for denial of service attacks
In first half of 2016 more than 400 businesses per day were targeted by Business Email Compromise fraud
FBI estimates more than $3 billion lost to BEC fraud in last three years; more than 22,000 victims
Most of the emails for BEC are coming from Nigeria
BBB  Issues alert on deception in free seminar invitations; particularly financial advice or house flipping services.
 Former compliance head for MoneyGram settles case against him for allowing fraud through the system; pays 250K fine
UK sees a 45% rise in crooks taking over victims bank accounts; use information about the victim to convince the bank they are actually talking to the account holder
Nigerian from Toronto that was extradited to Harrisburg, PA pleads guilty of defrauding $4.5 million.  He was the head of a group of Western Union and MoneyGram agents in Toronto that handled the money sent by fraud victims
Study says changes in brains of seniors could make them more vulnerable to fraud
Two men charged in Toronto for massive identity theft ring that took in over $10 million
Barclay's Bank in the UK funds TV advertising campaign warning about online fraud
Facebook bans advertising for LuxStyle Beauty products
Allege company gets victims to enter addresses early in order process, and then ships good even if people did not intend to place an order
And then hires people to collect "debts"
Under US law, if goods arrive and you didn't order you don't have to pay or return them
Student in Beirut commits suicide after sextortion fraud
 IRS and Tax Scams
Cuban pleads guilty in Little Rock, Arkansas; was part of a gang that was calling victims pretending to be IRS agents
 FTC and CFPB Updates
New FTC Website Helps Small Businesses Avoid Scams and Cyber Attacks
FTC information on Privacy Awareness Week May 8-12
 Romance Scam Fraud
Fake Checks
39 people indicted for cybercrime in New York; made more than $1 Million doing "card cracking
Used social media to find young people willing to make money by letting crooks use their bank accounts
The young people told to later claim their debit card was stolen
Crooks deposited counterfeit checks and withdrew funds before banks found out checks were fake.
Group was taking in $30,000 to $40,000 every week
Local gangs involved
 Two charged in Sioux Falls, Iowa, for using homeless men to cash counterfeit payroll checks
 Jamaica Sweepstakes Fraud
Brooklyn man sentenced to five years for working with Jamaicans on lottery fraud
Jamaican man arrested and charged for lottery fraud in Jamaica
 Just for fun….
 Great music video: Stand by Me around the world https://www.youtube.com/watch?v=oiPzU75P9FA
 Add to the News! Have you seen a recent prosecution or other fraud information that others should know about?  Send it into the Baker Fraud Report at steve@bakerfraudreport.com